Black Pepper Tofu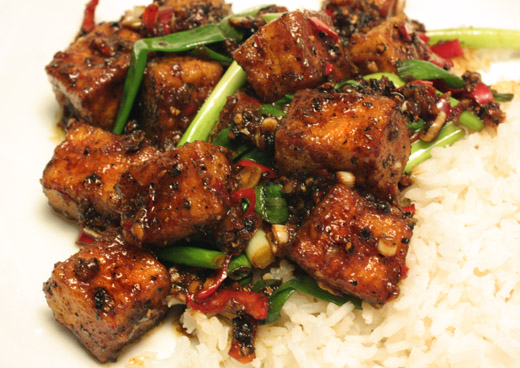 Opskriften er nok fra bogen Plenty af Yottam Ottolenghi og/eller Delicious magazine. Billedet er fra Lisa is cooking, men selve opskriften er en omskrivning af en opskrift fra The Guardian.
Der skal muligvis noget mindre peber i!
Ingredienser
340 g firm, fresh tofu
Cornflour, to dust the tofu
Vegetable oil, for frying
62 g butter
5 small shallots (150g), peeled and thinly sliced
3 red chillies, thinly sliced
5 garlic cloves, crushed
2 tbsp chopped ginger (45g)
1 tsk knuste peberkorn
1,3 tbsp sweet soy sauce
1,3 tbsp light soy sauce
1,7 tsp dark soy sauce
7 thin spring onions, cut into segments 3cm long

Fremgangsmåde
1Cut the tofu into 3cm*2cm blocks. Pat the tofu dry, toss in cornflour (shaking off excess) and deep fry in hot oil – about 360°F. A few tricks about frying the tofu. Put one piece in at a time because it will bubble and boil quite a bit. I try to stagger the tofu by about a minute or two. Let the piece fry for at least a minute before turning it because if you touch it too early, the tofu will stick to your utensil and break off. That's annoying. I found 2 minutes, a flip, and then another 2 minutes worked to give the tofu a nice golden exterior. Remove the tofu from the oil and drain on a paper towel.
2Remove the oil and any sediment from the pan and throw in the butter. Once it has melted, add the shallots, chillies, garlic and ginger, and sauté for about 15 minutes on low-medium heat, stirring occasionally, until the contents of the pan are shiny and totally soft. While you wait, crush the peppercorns, using a pestle and mortar or a spice grinder. They should be quite coarse.
3When the shallots and chillies are soft, add the soy sauces and the sugar, stir, then stir in the crushed pepper. Warm the tofu in the sauce for about a minute, then add the spring onion and stir through. Serve hot with steamed rice.
Opdateret af Jannik torsdag d. 24 april 2014 19:16.